>
>
>

Peach Pie Overnight Oats
Peach Pie Overnight Oats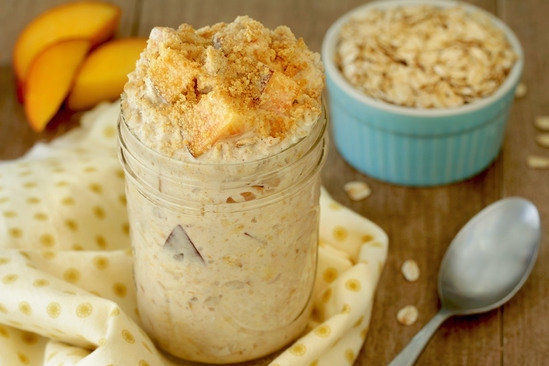 Peach Pie Overnight Oats

Entire recipe: 256 calories, 4.5g total fat (0.5g sat. fat), 291mg sodium, 44g carbs, 7g fiber, 11g sugars, 12.5g protein
Prep: 5 minutes
Chill: 6 hours
Entire recipe: 256 calories, 4.5g total fat (0.5g sat. fat), 291mg sodium, 44g carbs, 7g fiber, 11g sugars, 12.5g protein
Prep: 5 minutes
Chill: 6 hours
Ingredients
1/2 cup unsweetened vanilla almond milk
1/4 cup fat-free plain Greek yogurt
1 packet no-calorie sweetener
1 packet Peach Cobbler Flex Flavors
1/4 tsp. vanilla extract
1/8 tsp. cinnamon
Dash salt
1/2 cup old-fashioned oats
1/2 cup chopped peaches (fresh or thawed from frozen)
1 graham cracker (1/4 sheet), finely crushed
Directions
In a medium bowl or jar, combine almond milk, yogurt, sweetener, Flex Flavors packet, vanilla extract, cinnamon, and salt. Mix until uniform.

Stir in oats and chopped peaches.

Cover and refrigerate for at least 6 hours, until oats are soft and have absorbed most of the liquid.

Top with crushed graham cracker.
MAKES 1 SERVING
HG Tip: If starting with frozen peaches, make sure no sugar has been added.
*The WW points values for these products and/or recipes were calculated by Hungry Girl and are not an endorsement or approval of the product, recipe or its manufacturer or developer by WW International, Inc., the owner of the SmartPoints® and PersonalPoints™ trademarks.

Questions on the WW points values listed? Click here.

Hungry Girl provides general information about food and lifestyle. This information and any linked materials are not intended and should not be construed as medical advice, nor is the information a substitute for professional medical expertise or treatment. Click here for more information.