Pumpkin Spice Pancake Poppers + PSL Whipped Coffee Recipes
>
>

Pumpkin Spice Pancake Poppers + PSL Whipped Coffee Recipes
Oct 22 2020
Let's keep this pumpkin train rollin' with these adorable pancake bites. Will we be eating these alongside our pumpkin spice latte? Yup. And for a fun new twist on the PSL, keep reading...


Pumpkin Spice Pancake Poppers
1/6th of recipe (4 poppers): 116 calories, 2g total fat (0.5g sat. fat), 325mg sodium, 18.5g carbs, 2.5g fiber, 1g sugars, 4g protein
Prep: 10 minutes
Cook: 10 minutes
Ingredients:
1/2 cup all-purpose flour
1/2 cup whole-wheat flour
4 packets no-calorie sweetener
1 tsp. baking powder
1 tsp. cinnamon
1 tsp. pumpkin pie spice
1/2 tsp. baking soda
1/4 tsp. salt
2 tbsp. light butter
2/3 cup unsweetened vanilla almond milk
1/2 cup canned pure pumpkin
1/4 cup egg whites (about 2 large) or fat-free liquid egg substitute
2 1/2 tsp. vanilla extract
Optional topping: lite or sugar-free pancake syrup
Directions:
Preheat oven to 350 degrees. Spray a 24-cup mini muffin pan with nonstick spray.

In a large bowl, combine both types of flour, sweetener, baking powder, cinnamon, pumpkin pie spice, baking soda, and salt. Mix well.

In a medium microwave-safe bowl, microwave butter for 15 seconds, or until melted. Add almond milk, pumpkin, egg whites/substitute, and vanilla extract. Mix until smooth and uniform. Add this mixture to the large bowl, and mix until uniform.

Evenly distribute batter among muffin cups, and smooth out the tops. Bake until a toothpick inserted into the center of a popper comes out clean, about 10 minutes.
MAKES 6 SERVINGS
Top 'em Off!
For a fun flavor variation, just follow the above recipe with one additional ingredient…
Pumpkin Pecan Pancake Poppers
Before baking, sprinkle the batter with 1 oz. (about 1/4 cup) chopped pecans, and lightly press to adhere. Yum! Each serving will have 150 calories, 6g total fat (0.5g total fat), 325mg sodium, 19.5g carbs, 3g fiber, 1.5g sugars, 4g protein, and a
SmartPoints
® value of 4* on all plans.
Pumpkin Chocolate Chip Pancake Poppers
Here's another tasty alternative! Before baking, sprinkle batter with 3 tbsp. mini semi-sweet chocolate chips, and lightly press to adhere. Each serving will have 150 calories, 4g total fat (2g sat. fat), 325mg sodium, 23.5g carbs, 3g fiber, 5g sugars, 4g protein, and a
SmartPoints
® value of 5* on all plans.
Bonus Recipe: PSL Whipped Coffee (Watch How It's Made!)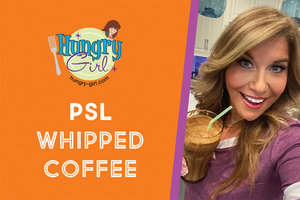 Lisa's still making fun drinks at home in her kitchen, and this one takes the summer's viral iced coffee trend and merges it with the sweet 'n spicy flavors of fall! You can
find the recipe here
, but we highly suggest watching Lisa's demo first… She has a special technique you'll wanna see!
CLICK TO WATCH!
Click here
to watch on YouTube instead of Facebook!
FYI: We may receive affiliate compensation from some of these links.


Chew on this:
Pass the pumpkin! Click "Send to a Friend" stat.
We may have received free samples of food, which in no way influences whether these products are reviewed favorably, unfavorably, mentioned with indifference, or mentioned at all. Click for more about our editorial and advertising policies.
*The WW points values for these products and/or recipes were calculated by Hungry Girl and are not an endorsement or approval of the product, recipe or its manufacturer or developer by WW International, Inc., the owner of the SmartPoints® and PersonalPoints™ trademarks.

Questions on the WW points values listed? Click here.

Hungry Girl provides general information about food and lifestyle. This information and any linked materials are not intended and should not be construed as medical advice, nor is the information a substitute for professional medical expertise or treatment. Click here for more information.